Manholes MHR, MHL and MHL2
Manholes serve to allow unrestricted and safe access to digesters as also an entry point for materials and other components. They are installed either in the cover or the lateral wall according to the application. 
ennox delivers modern manhole units for either lateral or top assembly in a variety of sizes and designs to suite your individual needs.

As well as the traditional design with a screwed fastening construction, we also offer a hinged version, inside opening with quick lock. 
ennox manholes are manufactured almost entirely of 1.4571 stainless steel and can, upon request, be fitted with sensor openings or other additional fixtures for measurement components.
Gas dome GAD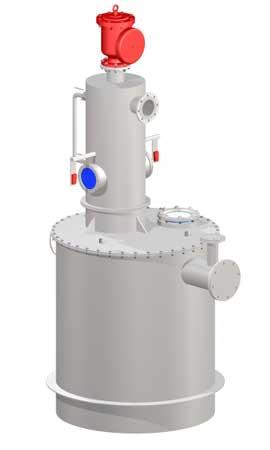 Gas domes serve to collect and discharge the produced gases as well as support for various additional digester installations such as mixers, foam traps, inspection windows, pressure safety valves and measurement components.
ennox gas domes are configured according to the customer's individual requirements. Special designs for the integration of a mixer are also available. We can also allow for unusual digester forms or space saving combinations of components.

Our engineers are happy to support you in developing the optimal solution.
Foam trap FDS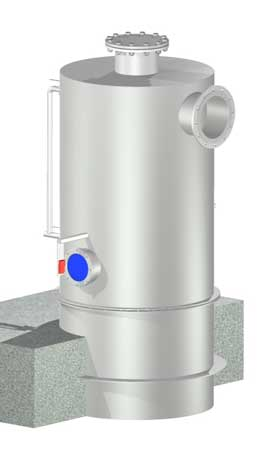 "Under certain conditions foam can accumulate in the digester as a result of the fermentation process. If allowed to enter into the pipework, the foam can result in blockage, damage or impair the functionality of safety devices.
The gas dome integrated ennox foam trap utilizes a light curtain detection system, which reliably recognizes any build-up of foam and prevents the ingress of such foam into the pipework.

With the compact assembly directly on the gas dome, the detection and counter-measures are immediate, therefore requiring no installation of a return pipe system for the accumulated foam back into the digester. 

As an option, the foam trap can be provided with a fully automatic controller as well as with mechanical over/under pressure safety valves."
Inspection window IW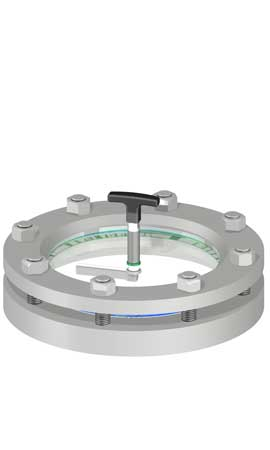 It´s always better to check yourself....
The easiest method to check the fermentation process in a digester is with a glance through our inspection window!

Quality glass materials and manufacture, many years of experience and an extensive range of accessories guarantee the meeting of the strict inspection requirements in biogas technology.

ennox inspection windows can be installed directly into the digester roof, in a steel or concrete wall or integrated together with other components in the gas dome or manhole cover.

Accessories such as spraying units, screen wipers and lights are also part of our program. We can complete your installation with the most up-to-date color zoom camera systems with data storage, data processing and relay via internet.
Spraying unit PSD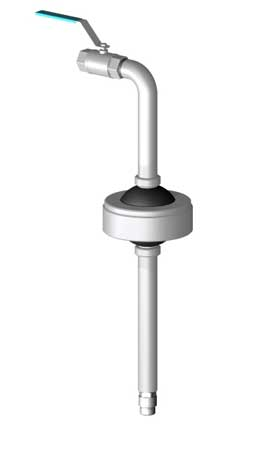 Floating covers or sludge accumulations forming on the substrate surface in the digester can be combated with a pivoting stainless steel spraying unit PSD.
Normally the spraying unit is welded into the gas dome or manhole cover, can be rotated 360° and can pivot within the space available.

The water connection can be achieved with a STORZ or GEKA type coupling, alternatively with a standard threaded connection.

Sludge heat exchanger HE-sw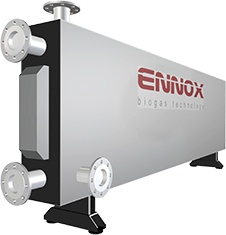 For the heat exchange in sludge in waste water/sludge treatment systems as well as biogas installations, our heat exchanger sludge/water HE-sw is used, which has been uniquely developed for the waste water sector. 
A turbulent sludge circulation is generated by an innovative turning chamber construction. The temperature profile is balanced ensuring an effective heat exchange in a compact construction. This results in reduced space requirements and helps to reduce our ecological footprint. 

The design of the heat exchanger ensures a low differential pressure at high capacities within the segment and minimises the risk of clogging. The diversion chamber can be easily disassembled for maintenance and cleaning. 

The heat exchanger is completely manufactured, insulated and encased in stainless steel. The outside casing and supports are manufactured from stainless steel 1.4301.